WHEN WAS THE LAST TIME YOU HAD FAMILY PHOTOS?
Like … proper gorgeous PROFESSIONAL Family Portraits.
We're not talking about photos taken on your mobile phone … you're probably not even in those.
And I don't care how good you are with a selfie stick … they aren't the kind of Family Photos you'd be proud to display on a wall.
We're talking about STUNNING Family Portraits – beautiful smiles, candid moments, no distractions and YOUR family, centre stage, of photographs as unique as YOU.
Portraits taken by a professional photographer SKILLED at making you and your children look fabulous (because let's be honest, kids can be tough and let's not even mention the Dads)!
Family photos taken by a photographer who will create a fun and relaxed atmosphere where you can be real and forget there's a camera pointed at you.
Because THAT'S how you capture those unique personalities, special moments and memories you will look back on for years to come, with a smile, every time.
Yes, you may have THOUSANDS of snaps of your kids growing up on your phone … but where are those photos now? Locked away in an old phone? In the cloud (do you even know the password to your "cloud" … what even is a "cloud")?
Professional Family Portraits really are the one thing you can't do yourself.
So, let's do something about that!
Enhance Studios is now taking bookings for our Signature $95 "We Are Family" Portrait Experience. Your Newborn Experience includes:
✅  A Pre-Shoot Consultation & Styling
✅  A 1.5 Hour "We Are Family" Portrait Experience
✅  A Cinematic Viewing & Design Session
✅  An 7.5" Square Acrylic Art Block of your favourite portrait
✅  And a $100 Credit to put toward Wall Art
Total value $750. Today – $95!
Total Package Value $750
NOW $95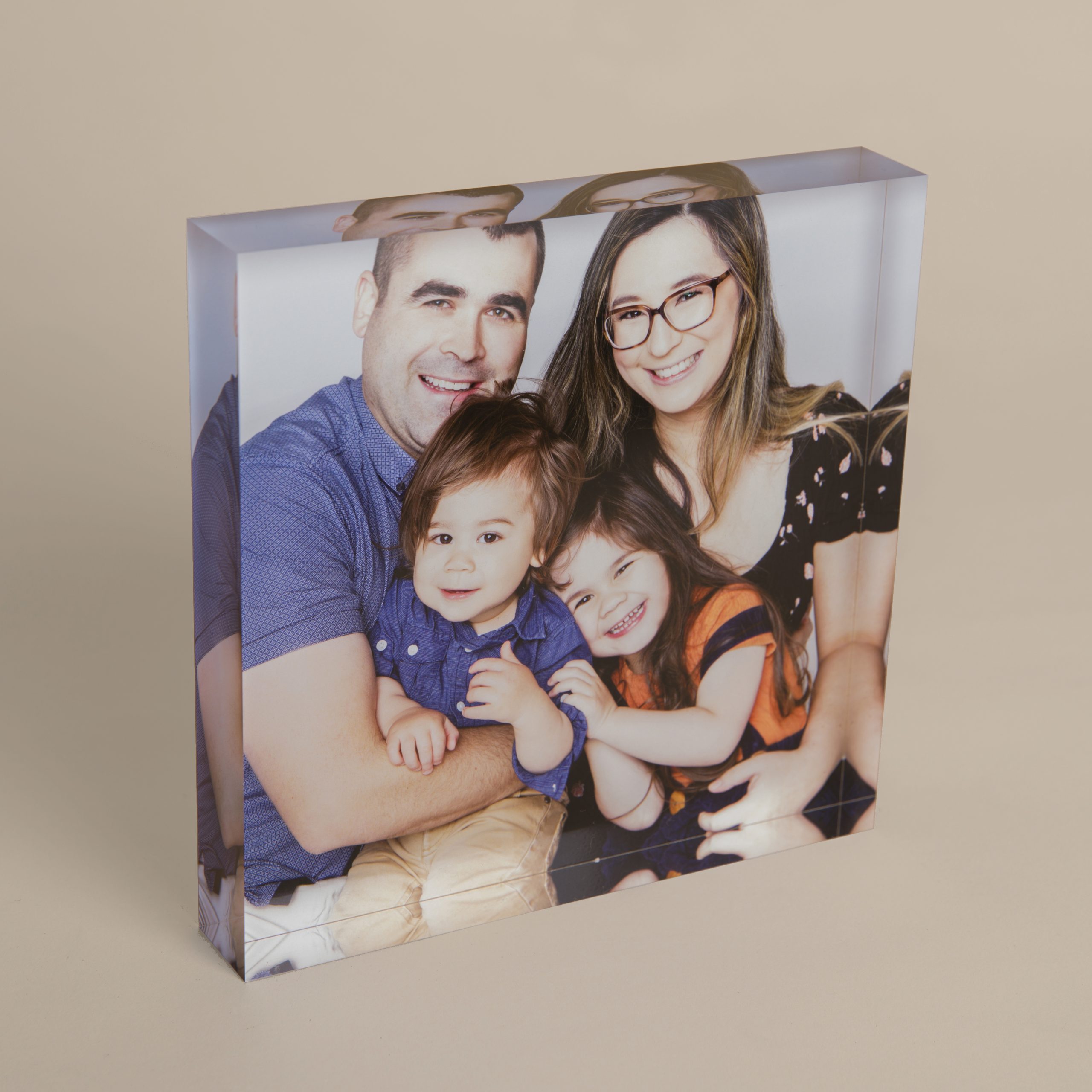 Pictured Above: your 7.5″ Square Acrylic Art Block (iceblock)
Don't just take out word for it…
Melbourne's most loved portrait studio… read some of our 5 Star reviews
"My favourite part of Enhance Studio's was the interaction they created with Sebastian. The only thing I would change is … nothing." ~
⭐⭐⭐⭐⭐
"Everything was great. Loved the team and how friendly and patient they all are"
⭐⭐⭐⭐⭐
"The patience and care of the photographer during the photo shoot was fantastic. It was great."
⭐⭐⭐⭐⭐
Press PLAY
See the Lancaster families journey though an enhance studios experience
4 Simple steps for your Family Photography Experience
How it works…
Step 1: A pre-shoot consultation –  this is a chance for us to get the most out of each other. We will send you a short questionnaire to complete prior to this appointment it will assist us with a starting point to ensure that the idea for your unique shoot are heading in a direction you will love. It's at this appointment you'll secure your session time  and purchase the special offer- so have that diary with everyone's schedules handy
Step 2 : Your Family Session – This is where the fun really begins. We will have all the things needed to personalise your session and create amazing images that capture your families personalities. We will devote a full hour and a half for your photography experience.
Just before you leave we will again take some time to show both of you the artwork options that we discussed at your pre-shoot. Ensure that this still fits with your plans. At this point we will book your design appointment.
NOTE: Don't be embarrassed if you pack a whole suitcase full of your items in the car. Some we will use, but some we won't – the best part is you'll have options!
Step 3: The Design Appointment – a couple of days after you newborn session your pregnancy and newborn photos are ready for you to make a selection. You get to sit and relax in our cinema room and see all the best images from your session. It's here we will assist you to create timeless pieces of art to display in your home
Step 4: Collection – 4-6 weeks after your Design appointment your artwork is ready to collect. Everything you order comes with enhance studios lifetime guarantee on manufacture and is Australian Made.
Click though to see some of our family images
More reasons for you to LOVE your Enhance Studios Experience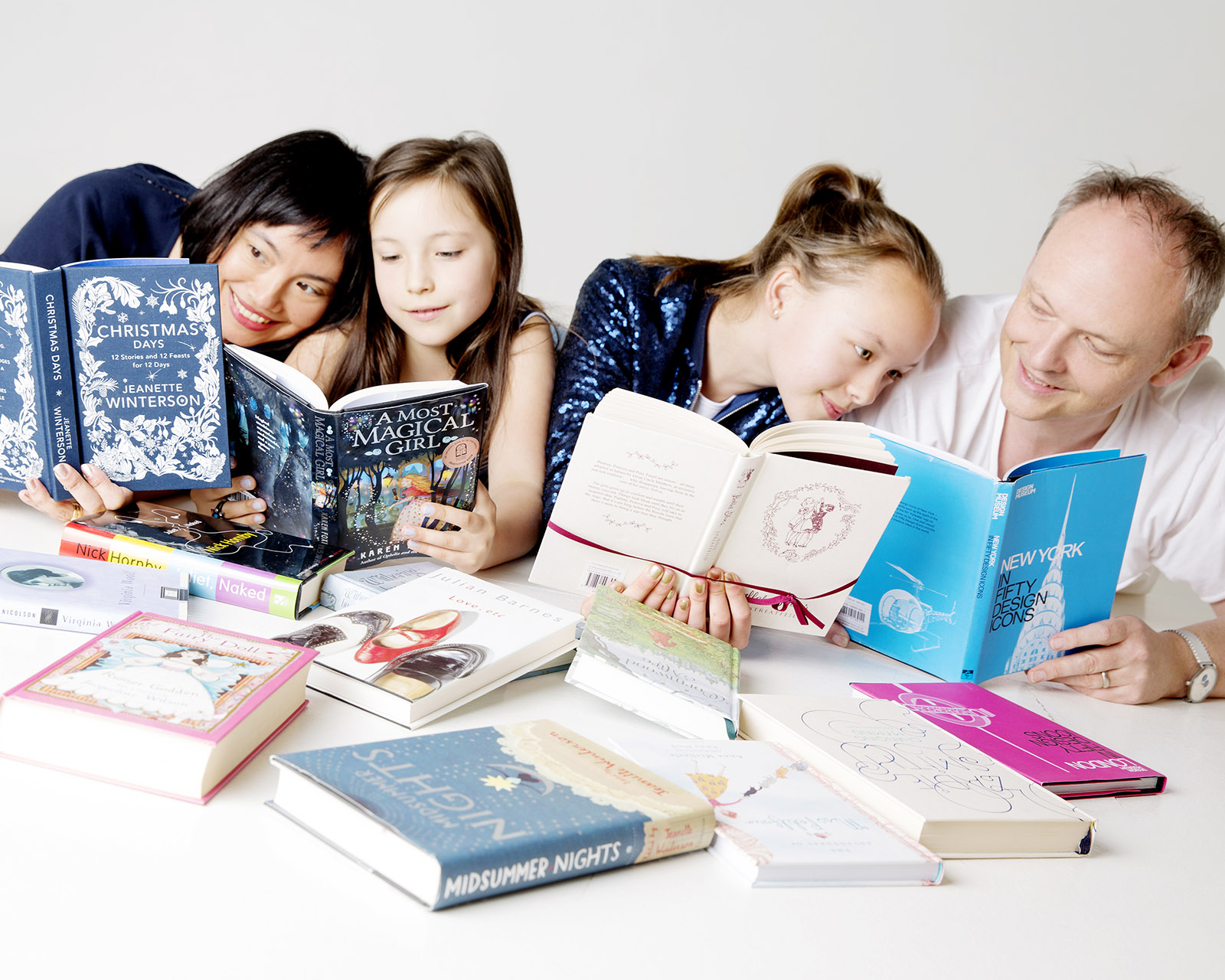 Safe
Enhance Studios has been photographing families for over 10 years. Our priority is the safety of you and your little one first, then to capture the image that you have always wanted.
They will handle your baby with the utmost care, and ensure that your session is not just enjoyable but safe.
But that's just safe for youand your newborn – what about your memories?
We also ensure your memories are forever safe – we back up your session as we are shooting with our state of the art SD system. All files are also backed up on our server and to an offsite – and everything that you order is stored and backed up indefinitely – as long as hard drives are still readable, we will still be able to access the images you ordered.
Personalisation
We are passionate about telling your story – and encourage you to bring in elements that reflect who you are.
If you choose you go all out and bring your latest star ears memorabilia, or you are someone who is interested in only classic black and white. We work with you to discover who you are, what style will suit you, what colours will suit you and your home. At the same time encouraging you to make it unique.
After all it is your story…. not ours.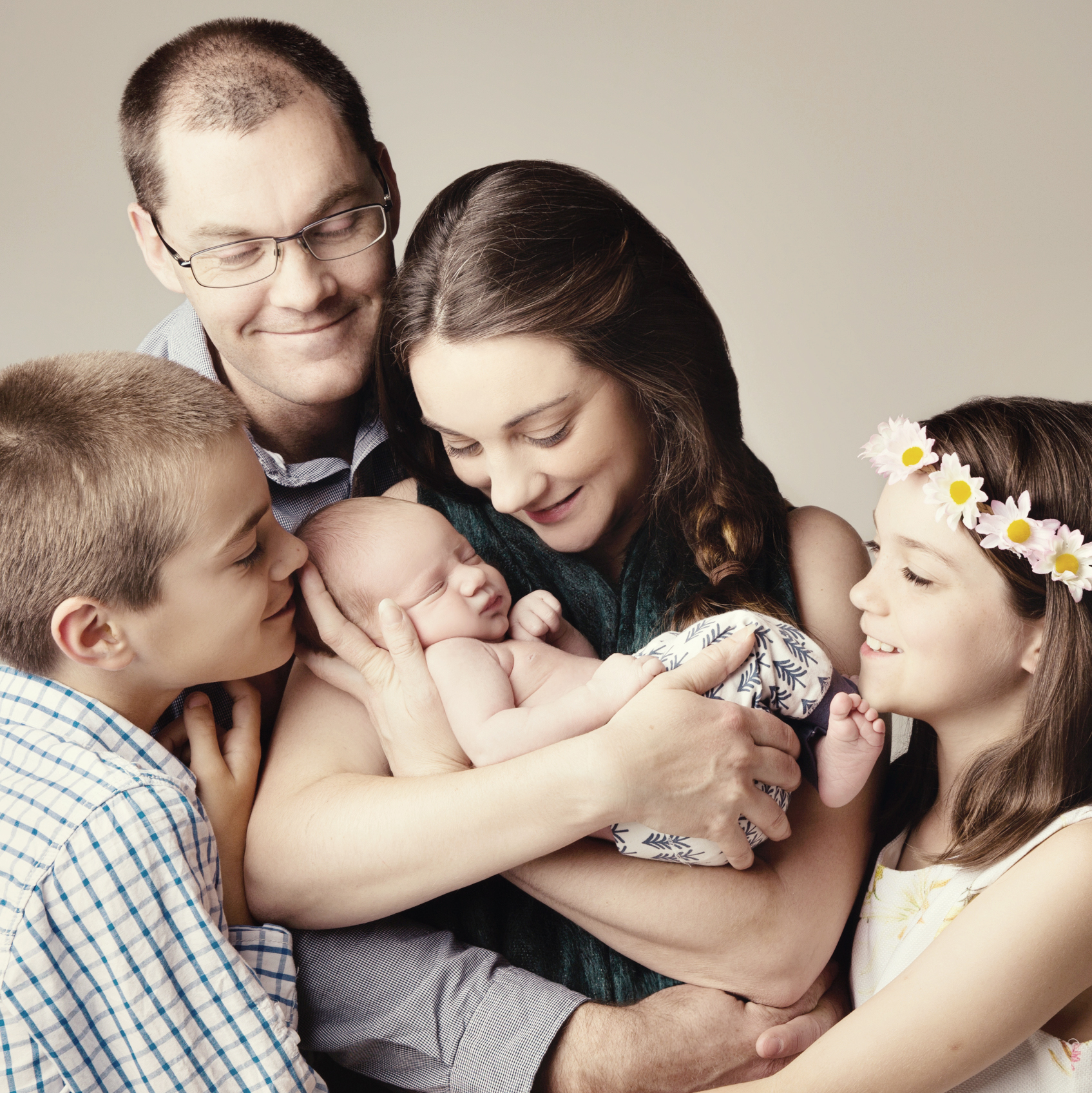 Range of Product
Enhance Studios has a beautiful and extensive range of contemporary Australian Made finishes on offer.
We source only the best and a very fussy when it comes to the finishes that we offer –
We have a range of Gloss and Matt products, framed and unframed, modern, contemporary and classic.
We have a series of Albums and smaller pieces that are a perfect gift the grandparents or uncles and aunties.
All of our work comes with the Enhance Studios Lifetime guarantee on manufacture
Good quality photography should out live you and be passed onto your children and children's children.
FREQUENTLY ASKED QUESTIONS
How do I find Enhance Photography Studios?
We are located at:
Warehouse 5 339 Williamstown Rd, Port Melbourne
There is free and convenient parking right out at our doorstep – and we are close to the M1 and the M3 making it easy to get to from any Melbourne Suburb.
What do you mean by FULL family shoot?
Full family, means whoever makes up your full family unit – eg: mum, dad & kids. Or if you are a single parent, mum or dad & kids etc.
The most important aspect of our studio is that it is a FAMILY studio. That means ALL family members (parents and children), MUST attend the session. Both parents (if applicable) must attend the design appointment for any offers or gift vouchers to be valid.
If you have a partner who just simply does not want to be there, unfortunately our starter packages are not applicable. Call our team or book in for your complimentary pre-shoot consultation to figure out what will work best for you!
How long does it take to receive my artwork?
All of your artwork is bespoke and made to suit your home, style and design. To achieve this level of quality, please allow 4-6 weeks to produce your artwork. We could receive your artwork faster depending on what finish and size you ordered.
Do you sell digital files?
Digital files are something that we've all come to want but the expectations of digital files vs the reality is something that you need to consider, read our blog HERE for more information.
Yes, we do sell high-resolution digital files of whatever you have purchased from your shoot as finished products, like wall art or albums.
For example:
If you order a collection of 6 canvases on the wall and an album of 12 images, its $250 for the high-resolution JPEGs of those 18 images.
Or you can purchase a digital album of 18 images for $2190
ask our team for more info – 1300 236 426
What do we wear?
What you wear in your shoot depends on your style, and where it's going in your home. After you fill out the session planner when you book in your shoot, your photographer will help you plan out what to wear.
For example, our family home is very beachy, casual and open, with pastel blues, purples and pinks. So clothing for our shoot was casual in similar colours. But if we wore red, orange or green it would look horrible!
Look at our blog HERE to see some great colour combinations
What do we bring?
What you bring in your shoot depends on your family's personality. We can create amazing personalised shoots with music, sports, fashion, culture etc. After your pre shoot consultation you'll have more of an idea about what you need but to get some inspiration I suggest reading our blog about how to personalise it! HERE or check some of the more unusual items that people have brought into the studio on our blog about what to bring HERE
What about hair and make up?
We encourage you to do your own hair and make up to your liking. We want you to look like you, not like you're at a glamour studio. You could go a little bit heavier with makeup than normal, but don't go over the top.
How many people can I bring to my session?
Bring the whole family! Grandparents, extend family and even the dog! The studio can hold approximately 25 people comfortably, but we have had up to 35 before. The more the merrier! (just let us know before hand)
What are the terms and conditions with my starter package or gift?
The "We are Family" package is available only for full family groups – ie/ Mum, Dad and children if your family is you and your child that is also of course fine.
The ice block is to be your favorite full family image.
All adults must attend both the photography session and Design appointment to claim the full value of the voucher.
More terms and conditions can be found under our FAQ section Here
How much does it cost?
It all depends on what your purchase in your design appointment. To give you a guide, our families usually invest between $1000 – $6,000 to have a beautifully designed collection, or multiple collections on their walls. We can give you a more specific quote at your complimentary pre-shoot consultation or you can get a little more of a guide at the finishes section of our site.
What are the payment options?
You have a few options to choose from:
1 – Pay in full
2 – 50/50 Payment. 50% at the design appointment and 50% at the time of collection approximately 4-6 weeks later.
3 – Take advantage with 0% Interest* – PayRight to spread the cost over 12 or 24 months. – form more information CLICK HERE
Payment options include Visa, MasterCard and Eftpos and AMEX
* 0% is available with orders over $2000
How long do you keep images on file? Can we re-order later?
We actively keep all of your ordered images for as long as our hard drive can last. Due to the large file sizes, the images you don't order are removed from our system 1-3 months after you collect your images.
If you want us to hold you images longer because your moving, renovating, going overseas etc we can hold it for you at a fee.
However the safest place for your images is in your own home, in print, on your walls, where you and your family and your children can love and enjoy them for years and years to come.