Cake Smash Photography is the ultimate fun and creative way to capture the milestone of your little one turning one.
To ensure that you get the absolute best out of your babies first birthday cake smash, there are a few hints and tips you should pay close attention to. We've written them down so that preparing for a cake smash is a breeze.
A cake smash experience is completely customisable and predesigned to create the perfect style to suit your home and your personalities. The first step to ensure an amazing experience is a pre-shoot consultation. This is where we pre-plan all the details; including the cake flavor, the theme, colour scheme, look and feel of your backdrop and decorations. We also help you decide what your child will be wearing
Timing
Being mindful of your child's nap time is essential in ensuring a successful shoot. If you child is well rested and ready to play, they will be more likely to be interested in a fun new cake smash experience.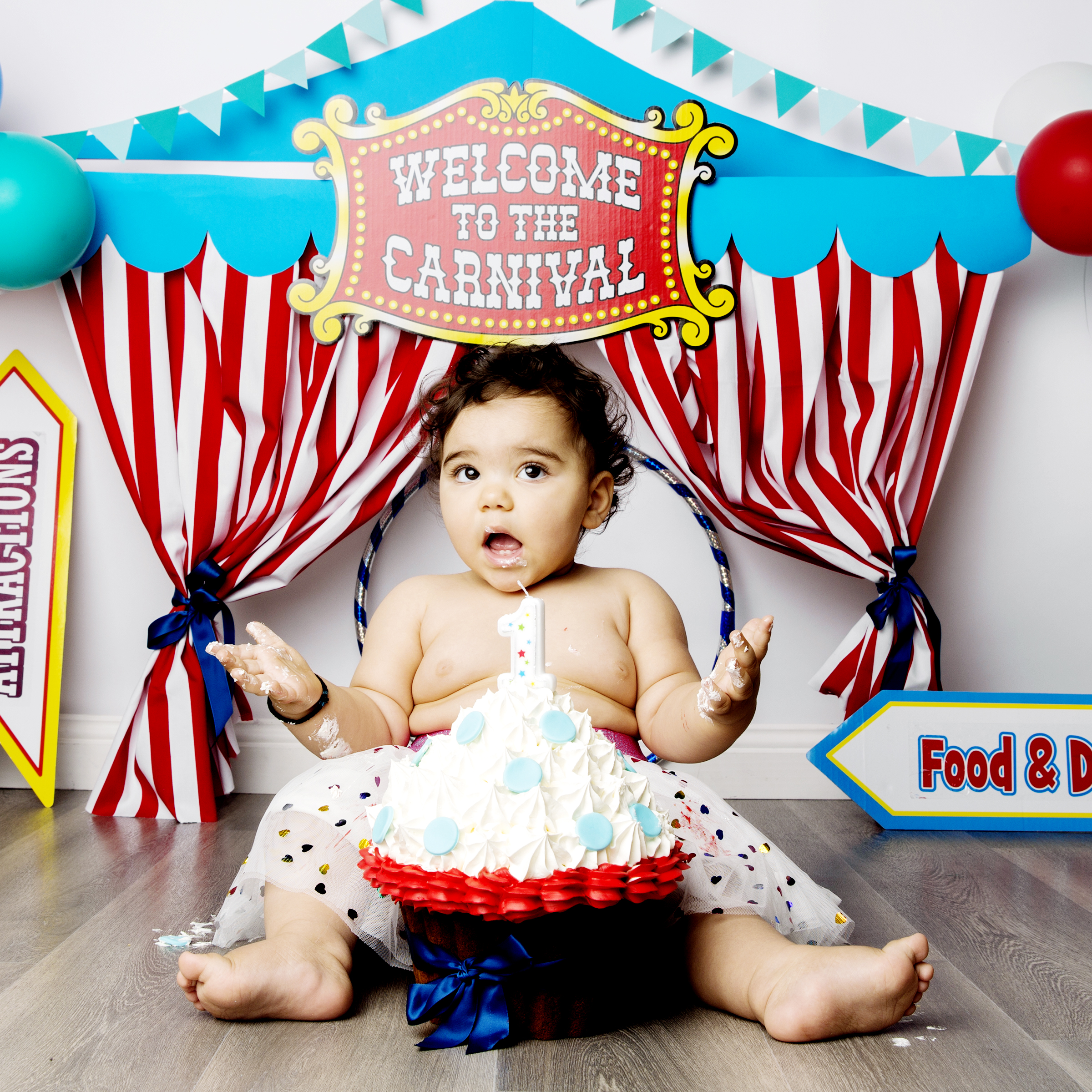 Fussy eaters
Some children only want to eat their favorite foods, and are simply not interest in cake. Bring along some more familiar snacks that are "cake coloured" and we can use that to a least make it seem like they are eating the cake.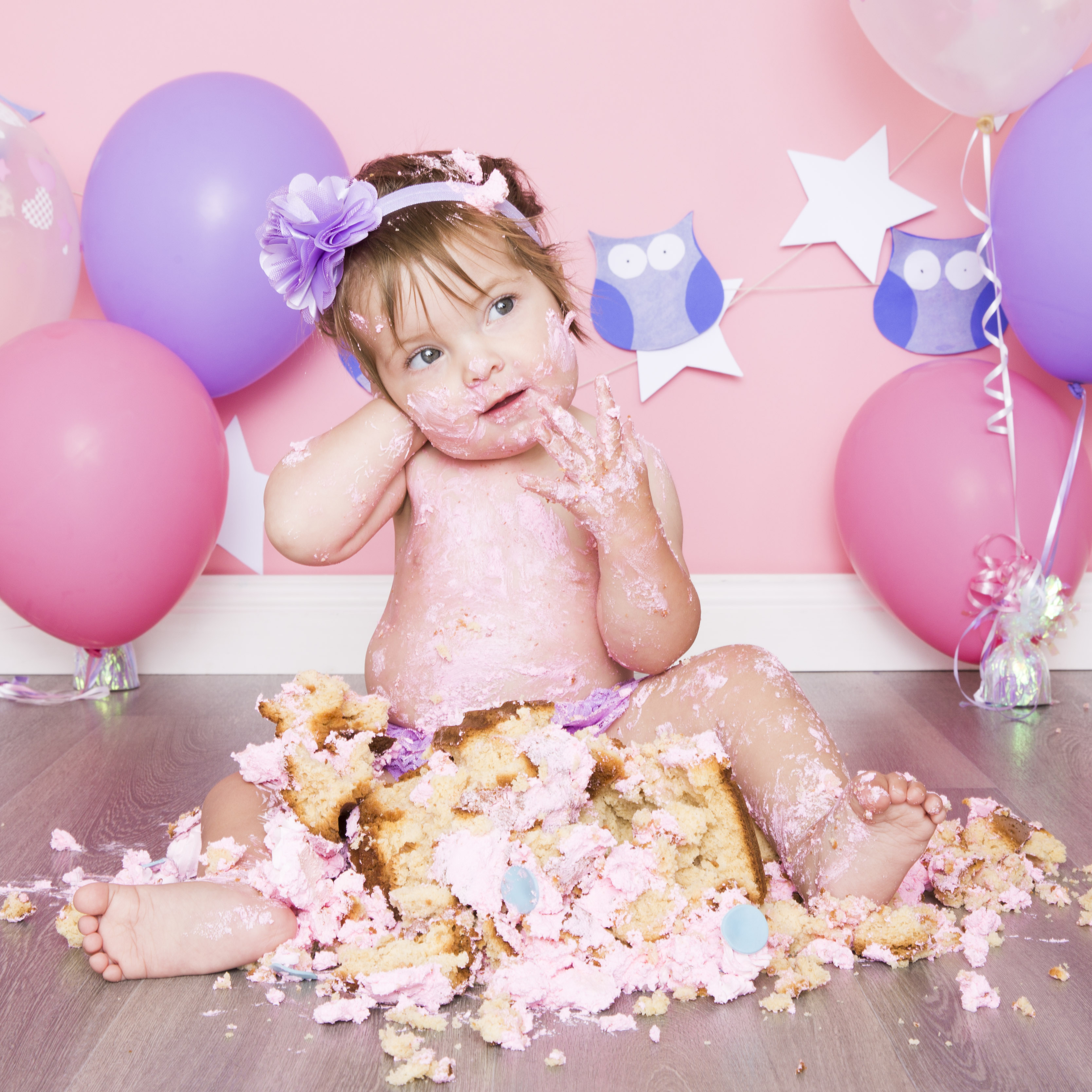 Prepare to get messy
It's not just your baby getting messy in the cake smash, you will too. We need your help in breaking the cake up and spreading that icing on their skin. So be prepared with a change of clothing, just in case you little one just needs a cuddle when they are covered in icing.
Don't worry Be happy
If you're stressed about the shoot working, your baby will pick up on it, so don't worry, have fun!  Some of the funniest photos are of a child crying, so sad in all their birthday gear and a beautiful cake in front of them. We want a range of expressions and emotions, not just smiling for the camera.
Practice makes perfect
During a cake smash, little fingers are sticky and covered in icing for a good 15-20 mins. This is often an unfamiliar and possibly uncomfortable feeling for some children. So give them some practice.
Pop them in the shower or the bath, give them some yogurt or mashed potato and let them get messy. Encourage them to eat themselves and rub it on their skin – let them feel the mess, then, when it comes to your cake smash, it's not so much of a brand new experience.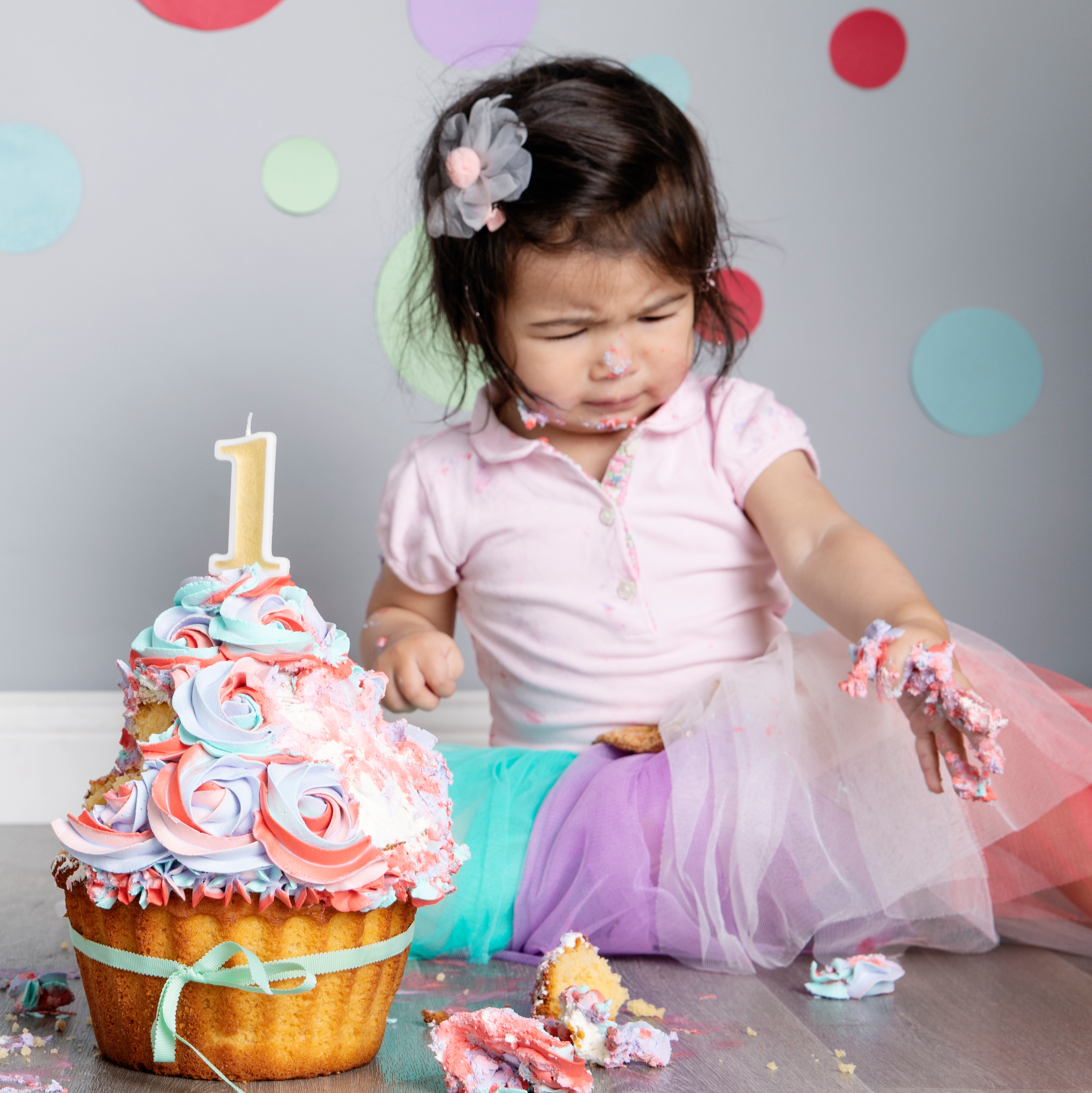 Shy children
If you have a shy child, ensure you come with them to the studio, for your your pre-shoot consultation. This gives your child a chance to meet the photographer and should give both your child and the photographer, a chance to get to know each other.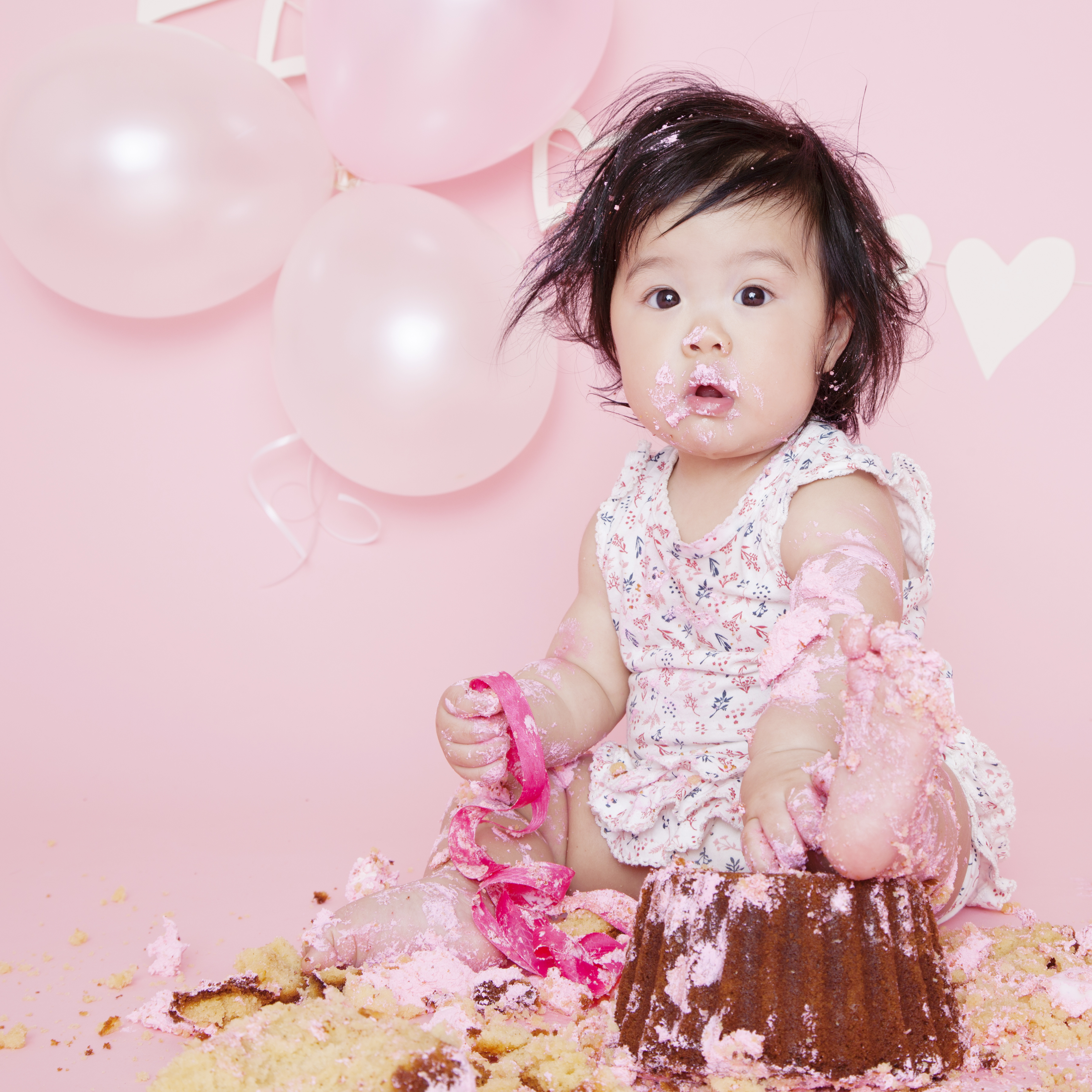 Tell us everything
 Is there a song that always makes your baby smile and clap? Are they shy or outgoing? Do they respond best to an older sibling? Are they fussy with their food? Have they just changed their sleep routines? Have they been unwell? Are there teeth coming through? Have they just eaten? Are they a food lover? All these small things could affect their shoot and any and all information may be helpful, so please tell us everything!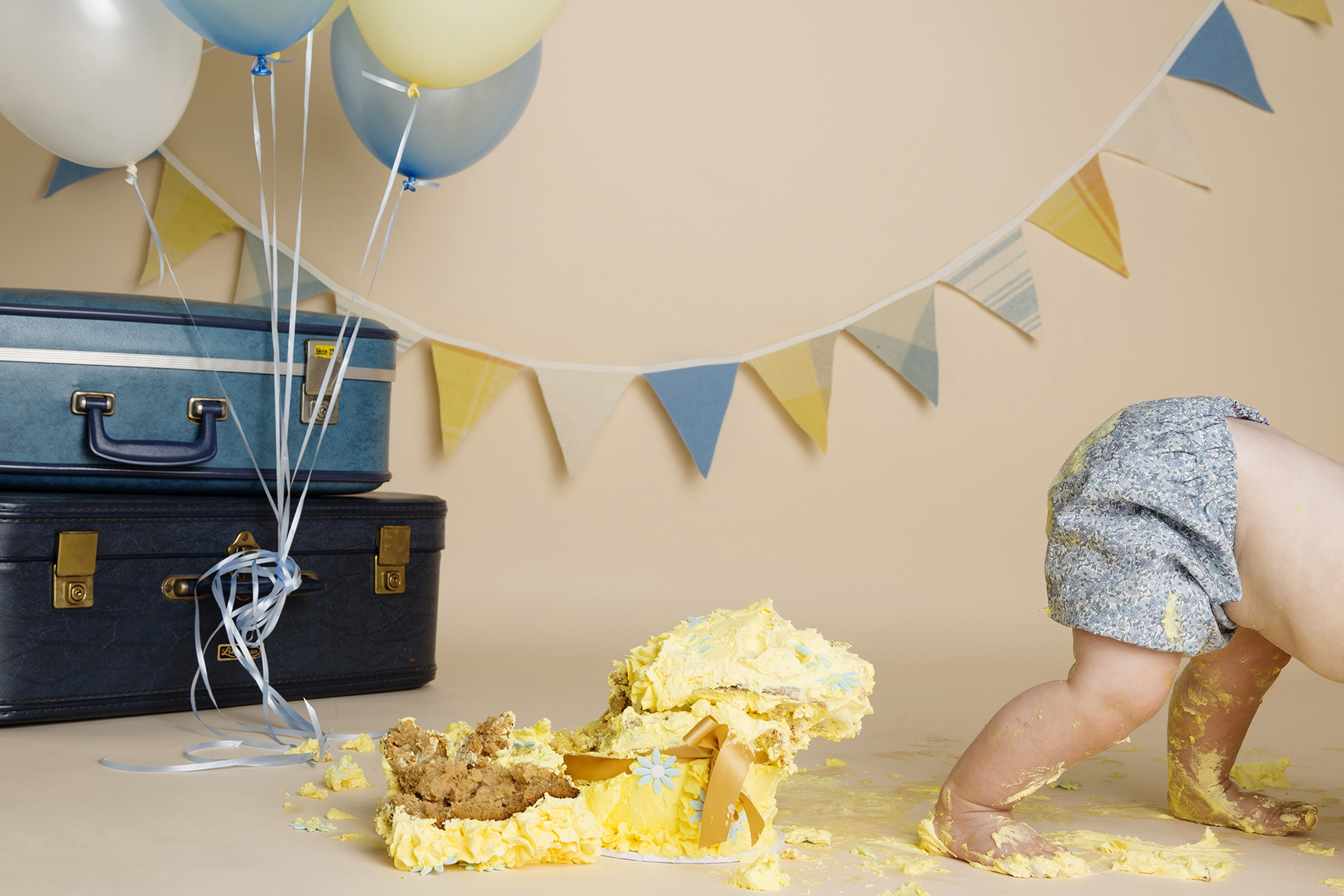 Watch a family cake smash session…